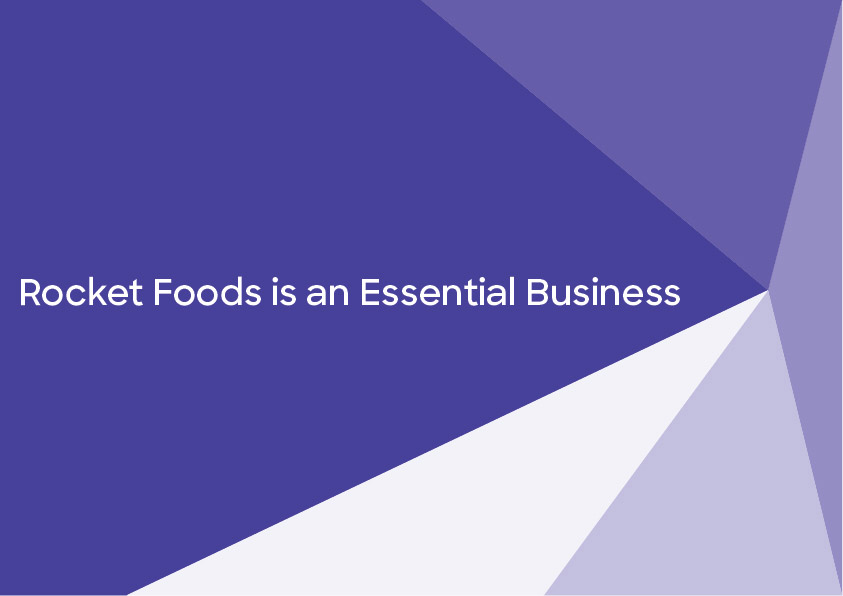 As per the announcement yesterday (23/03/20) we as a nation, are moving to a Level 4 response to Covid-19. These are unprecedented times. Rocket Foods is considered an essential service as we manufacture food and supply to supermarkets. We will do everything in our power to ensure that our manufacturing continues to produce safe, delicious food.
Considering the current climate and demand, we are making a few changes to our services:
Order & Deliveries
- Our customers may experience some delays with orders as our delivery network is experiencing volume exceeding Christmas.
- We are no longer allowing customers to pick up orders.
Reduced Rocket Foods Range
- We are currently experiencing high volume of orders for savoury products. This is the area of focus for the business.
- This may impact our production of sweet products. We will keep you up to date with any changes on this, but at today, all products are available as normal.
- We would like to take this opportunity to introduce you to our sister brand, Ma Cherie French Pastry who make and supply a range of handmade French Patisserie products. We have stock on hand of Ma Cherie products which can be provided to you during this period. If you are interested in learning more about this range, please contact your sales representative directly.
During this time, should you have any questions, please contact your sales representative or our customer services team on 09 525 5480.
Please note: all our office-based teams are working from home. Our production staff are also working following guidance from the New Zealand Government.