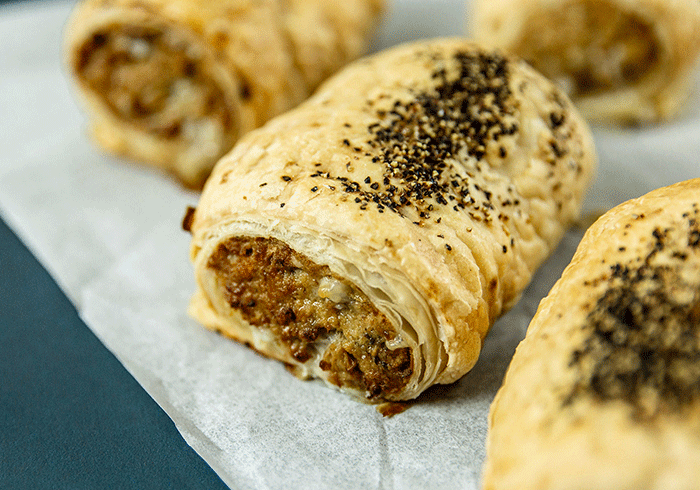 We're delighted to announce that Rocket Foods savoury products will now be delivered pre-packaged in order to support our customers during Covid-19 Alert Level 4. This includes our four flavours of 200g Quiche, all Savoury Rolls, Savoury Bakes and Pork Pies.
Supporting Stores
We understand our customers have been wrapping products when they arrive in store in order to continue to present a good range of ready to eat products in a safe and hygienic way for the end user.
We've taken this feedback onboard and have moved to pre-packaging a range of our popular individual savoury items for the foreseeable future. We are doing our upmost to support our stores during this time and are rapidly making changes in order to continue to supply quality baking to New Zealand.
Pre-Packaged Individual Savoury Products
Our pre-packaged savoury products are supplied with an ingredients list and best before date attached to each individual product. Each product is supplied in an individually wrapped bag that has been heat sealed to close. Our kitchen is following all guidance provided by the New Zealand and MPI during this time.
Please note:
- Products are not barcoded
- Product stickers do not include a nutritional information panel
- If a product is missing a best before date, the best before date will be stated on the inner that that item arrived in
- The size of some product inners may have changed to allow for products to be packaged. Please note, our units per inners have not changed
- Rocket Foods products have been frozen and thawed. Do not refreeze. If products are refrozen, Rocket Foods cannot guarantee the quality
During this time, we are still providing a range of wholesale products that are unwrapped. This includes our Large Bacon & Egg Pie, Large Spinach Rustica, Large Chicken and Vegetable Flan, our 130g Quiches and Quiche Slabs.
You can follow all Covid-19 updates from Rocket Foods over on our Customer Information Page, which is being kept up to date with our position as things change and develop.
If you have any feedback on these changes, please contact our customer services team. We're looking to make improvements as the situation develops. You can reach them by emailing orders@rocketfoods.co.nz or by calling 09 525 5480.