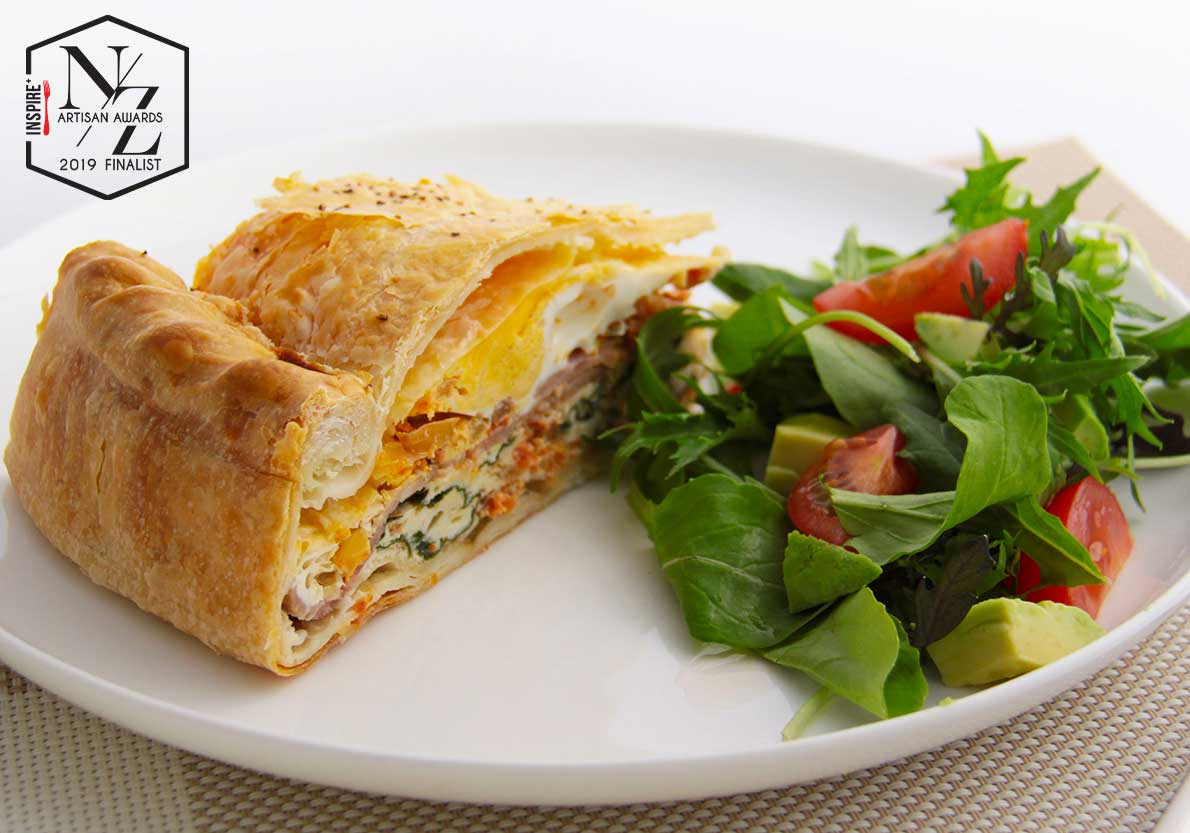 We are delighted to announce that our Bacon, Egg and Pesto Pie has been shortlisted as a finalist in the NZ Artisan Food Awards. We entered this much-loved wholesale pie into the chilled/deli category and we're very proud that following the first judging round, that it's been selected as a finalist. This is a testament to our homestyle, classic kiwi baking that we've refined over the past 20 years. The Bacon, Egg and Pesto Pie is Rocket Foods' kiwi classic with a twist. It's the pie that we all grew up with and an essential part of any picnic, road trip or family gathering.
The History
Our savoury range started back in 1999, with our Bacon, Egg and Pesto pie first appearing on our product list in 2000, making it almost 20 years old. Rocket Foods first originally started savoury production as we were approached by several our sweet customers who were looking for a high-quality range of savoury products, we were certain we could help.
We knew we wanted a Bacon and Egg pie to be one of our core products. It was designed with sharing and quality in mind by our team of bakers and chefs. We wanted this to be suitable for both FMCG and the foodservice market. A pie that looks impressive in a cabinet, or on a plate. A perfect pastry outer, with colourful and distinguishable layers. We wanted our customers to be able to cut into the pie and feel like you've hit jackpot when you find a whole yolk.
Our Bacon and Egg Pie follows a classic recipe. Today, we still make this the same way – by hand in our Auckland based bakery. You'll find out team lovingly making them one by one, cracking each of the 16 whole eggs per pie, by hand and hand plaiting the pastry edges. The special Rocket Foods twist is our classic pesto in the pie, it's what makes it uniquely ours.
Serving Suggestions
We recommend that our pie is cut into 12 generous slices, but it could also be cut into more or less depending on the retailer or customer. You can easily reheat our bacon and egg pie in the microwave or oven. We'd recommend paring it with a delicious tomato chutney, with a seasonal side salad, or a creamy slaw.
The winners of the NZ Artisan Awards are announced in September, so we're keeping our fingers crossed that our Bacon, Egg and Pesto pie comes out on top.
Interesting in trying our Bacon, Egg and Pesto Pie?
If you are a new, or existing customer please get in touch with our sales team directly, they'll be delighted to bring you a sample and discuss stocking it. Fancy adding one to your next order? You'll need to quote product code 102 when placing your order.