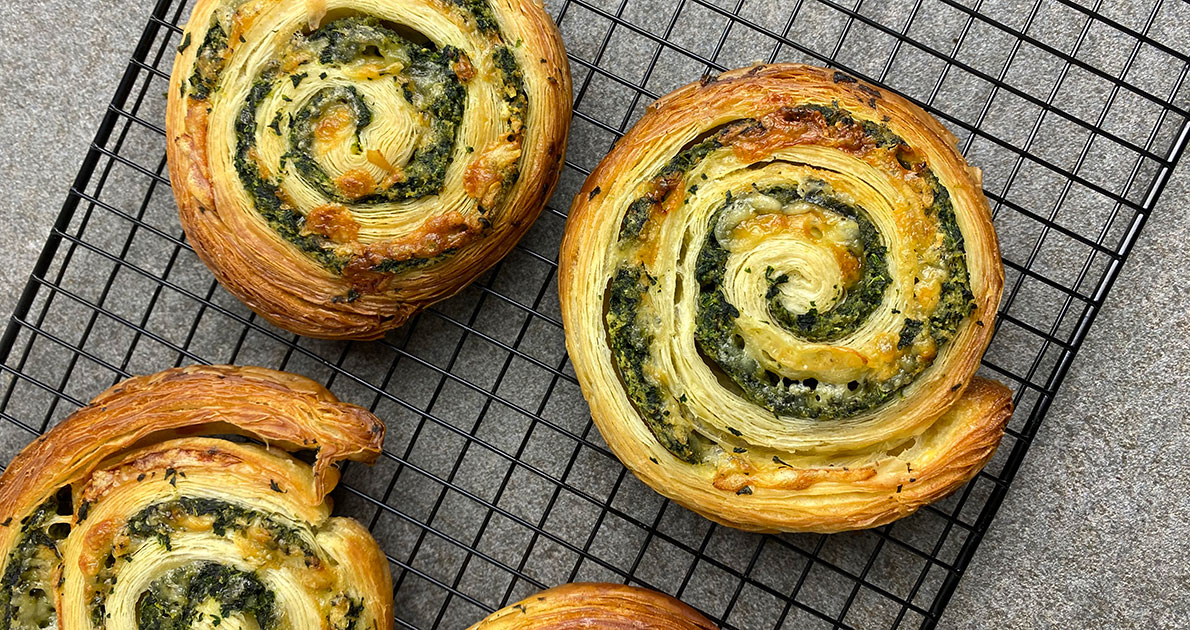 Following the success of our Ham and Cheese ready to bake pastry swirl, we've added two new flavours to our range. We are pleased to present to our customers:
- The Cheesymite Swirl
- The Spinach and Cheese Swirl
These ready to bake pastries are just that, take them from the freezer, into the oven to bake and then serve. Freshly bakes pastries whenever you need them. Perfect for breakfast, morning tea snacks, lunchboxes and more! An ideal to bring authentic French pastries straight to your kitchen, café, food store, hotel, or eatery – all whilst managing your stock and wastage.
Cheesymite Swirl
Our authentic French pastry filled with Marmite and Cheese – a kiwi classic! This is generously filled with a good balance of buttery pastry, Marmite and sharp cheese. This is guarantee to convert a Marmite hater to a lover!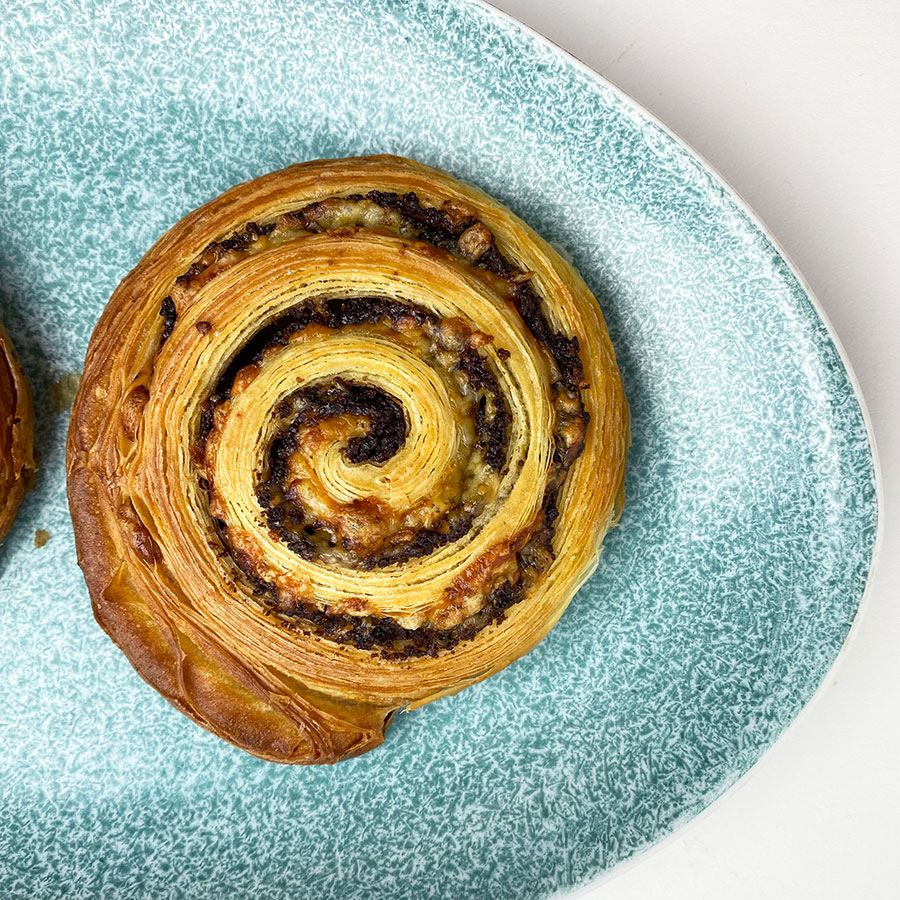 Spinach and Cheese Swirl
The first thing you'll notice about this product is the amazing colour from the spinach. The green is sure to add some colour to your cabinet or display. Our French pastry base is rolled with spinach and cheese along with our seasoning mix. This is mouth-wateringly delicious!
All our Ready to Bake swirls come in boxes of 15 units, and we are delighted that you can now choose between three options, two of which are suitable for vegetarians. All our pastries are best eaten on the day of baking. Your customers will be delighted by the crunch of freshly baked pastry, with generous and flavoursome fillings.
As with all our products, these Ready to Bake Pastries are handmade by our team here in Auckland. They have a rustic homemade finish which will give you kudos with your customers. Keep our RTB's in the freezer until you need them and bake them off ready to serve.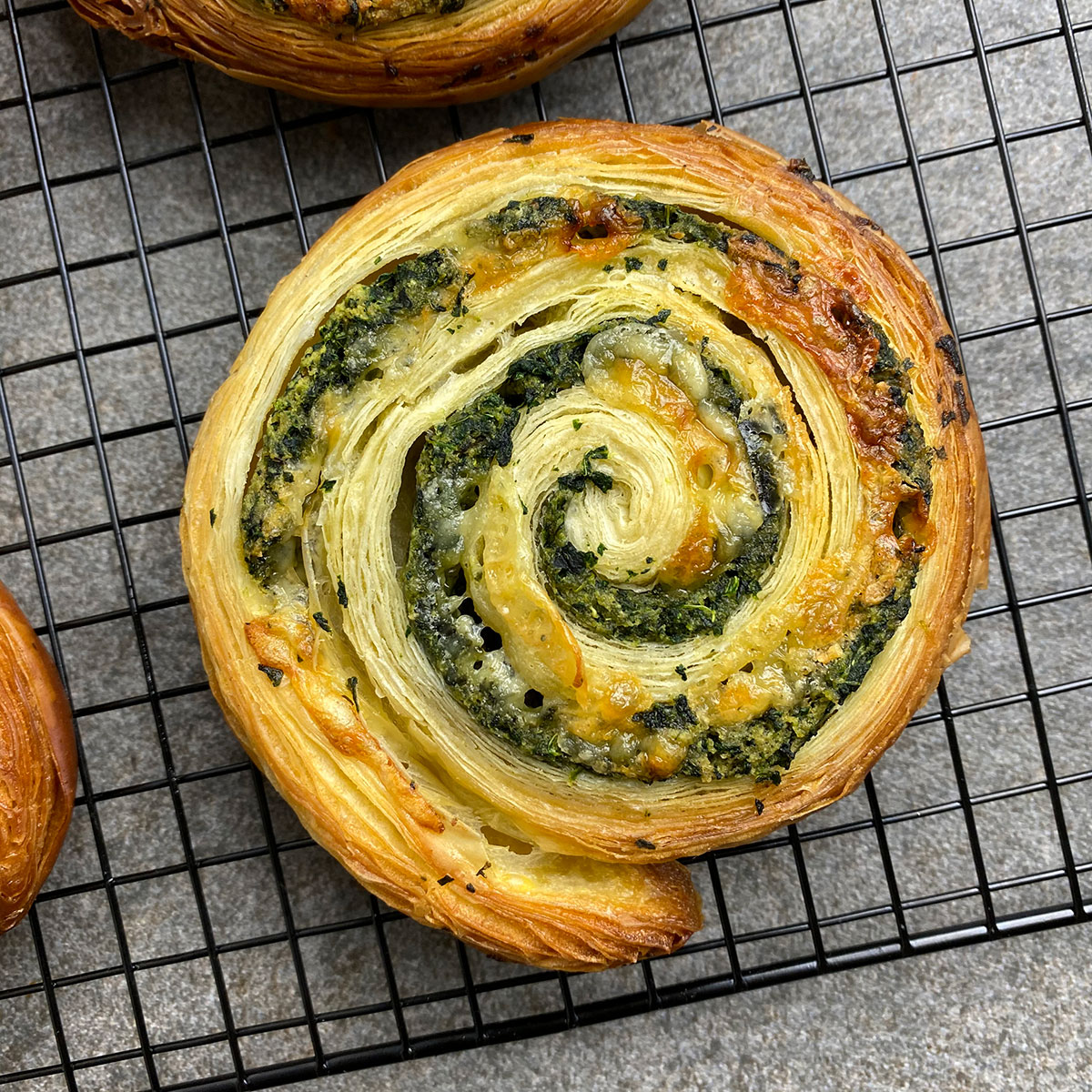 To Bake:
1. Pre-heat the oven at 170°C.
2. Take the pastries straight from the freezer, and place on a lined baking tray.
3. Bake for 20 to 24 minutes, until golden. Be sure to check the centre is baked through.
4. Take out of the oven, and cool on a cooling rack.
5. Serve and enjoy!
Note: every oven is different. We recommend you doing a test bake of our RTBs to confirm the perfect cooking time for your kitchen.

Our new Ready to Bake pastries are available for order now! The order codes are:
- Cheesymite Swirl = 600
- Spinach and Cheese Swirl = 601
- Ham and Cheese Swirl = 602
If you'd like to see samples of this new range, get in touch with your Rocket Foods Sales Representative or our fantastic Customer Services team and we'll take care of this.