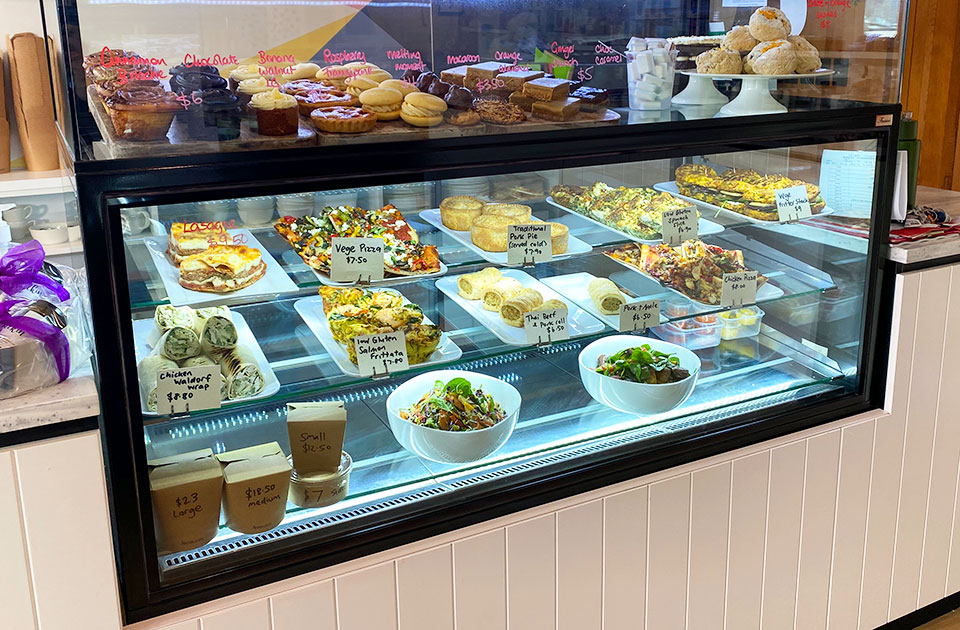 Looking for news ideas for your cabinet? We can help! We've been wholesaling delicious food to cafes, food stores, restaurants and eateries for over 20 years. Collectively we've spent hours chatting with our customers and getting to know their top tips and trade secrets. We also have our own Café, Rocket Kitchen in Mt Eden Auckland pictured above, so it's safe to say that we know a thing or two about the Kiwi Café Cabinet.
The humble café cabinet, not to be overlooked with a full sit-down menu. Us kiwis love the classic, a Sammie, Bacon and Egg Pie, Sausage Rolls, Salads and sweet treats aplenty. The cabinet offers customer the opportunity to have a good look at your range and make a selection based on flavours, size and overall look. Your cabinet needs to be your best foot forward, but you don't need us to tell you that.
We've put together our top 5 tips so you can have the best looking cabinet in town – something that will impress your customers, keep them coming back for more, and be a place for them to recommend to their friends, colleagues and family.
1. Use Colour
The use of colour is a top tip to break up and add interest to any cabinet. Colour can really draw the eye to particular areas of the cabinet, whether it's the fillings of your sandwiches or wraps, or the roasted veggies on top of a frittata bake. Use garnish to add additional colour to your plates, whether it's fresh colourful lettuce, herbs, micro lettuce or even whole veggies.
With sweet products, break up the sea of chocolate or pastry with colourful macarons, or why not try fresh fruit coulis or edible flowers as garnish.
2. Cater to different dietary requirements
Give your customers the opportunity to try something different, or select something to meet their dietary requirements. There is a real trend in flexitarianism at the moment (eating mostly plant based, but allowing for some meat or animal products in moderation), or people partaking in Veganuary, a 31 days challenge to go Vegan.
Why not add a couple of vegan options to your menu, or perhaps a low gluten or low carb options? This could be as simple as a veggie sammie or a low gluten salad wrap.
3. Create a Signature Dish
Give your customers something to remember you by with a signature dish or item for your cabinet. Whether you have a list of black board specials or a changing seasonal menu – the signature dish should remain. It could be sweet, savoury or even a beverage. A few suggestions of trendy cabinet foods at the moment include pastrami sandwiches, kimichi cheese toasties, raw vegan treats, anything in a brioche bun, doughnuts and dairy free milks.
4. Jazz up your Cabinet Display
We eat with our eyes, first and foremost. There are heaps of ideas for Cabinet Displays. We'd recommend use of garnishes, different serving plates, introduce different heights and good labelling instore. Make it easy for your customers to shop your cabinet, and to know what's what. Don't forget to add an allergies or special notes for daily specials, locally sourced product or staff favourites – everybody loves a recommendation after all.
5. Breakfast, Lunch, Snacks and Sides
We all know breakfast is the best way to start the day, but lunch is often the peak of the day in the cafe. We recommend having products that are matched to the different times of the day. How about a bacon and egg bagel, aimed at the breakfast market, or a Caramelised Onion Quiche with side salad for lunch.
Don't forget snacks and sides! Smaller items that are perfect to be paired with a coffee, such as a mini muffin might just push up the average sale value in store. Offering your salads in a 'side-size' is also a great way to encourage customers to try different products from your cabinet.
If you need help with some new products for your café cabinet, then we can help. We have a fantastic range of sweet and savoury production options that we would love to show you.
Should you be interested in seeing products from our range, contact our customer services team or your sales representative directly.