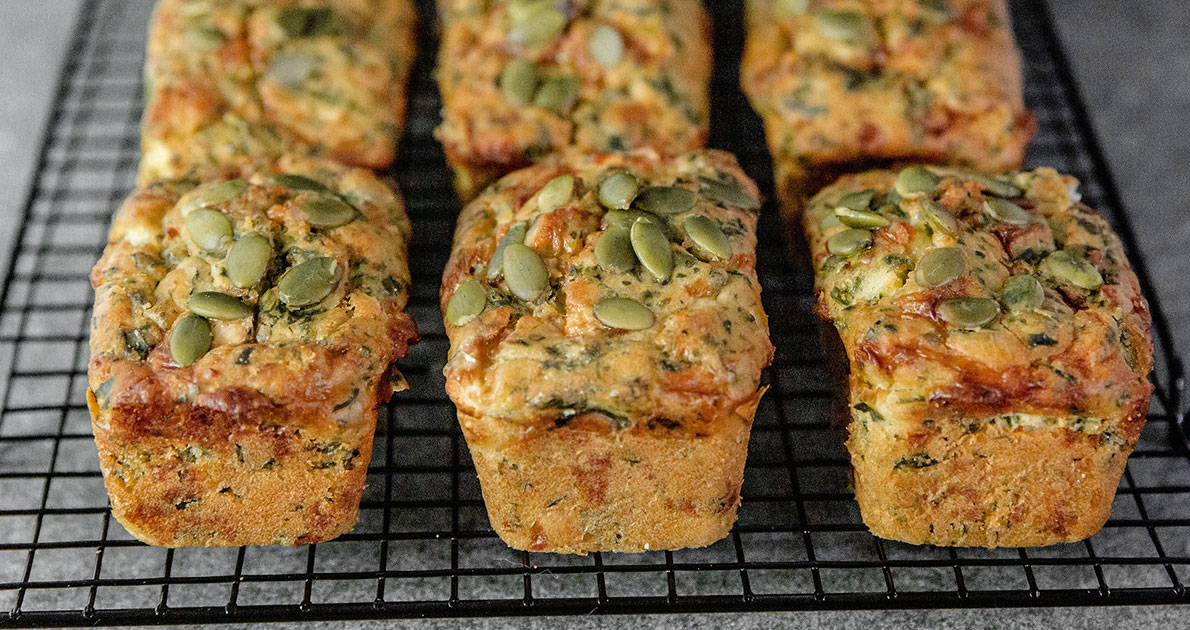 Vegetarianism, it's not new but it's certainly something that is a hot topic of conversation. Whether you have committed to a meat free Monday or simply trialling reduction of meat intake. There are so many easy and convenient vegetarian options available on the shelves of your local supermarket or dairy, no matter what your reasoning is for doing it. Whether you are focusing on your health, doing it for environmental or animal care purposes. It's a great time to give it a go!
Here at Rocket Foods, we've had a focus on offering a range of products that are suitable for a wide range of dietary requirements. We have serveral savoury products in our range that are suitable for vegetarians. If you are wanting to cater to your changing customer needs and wants, and struggling to figure out what vegetarian products you should put on your menu, why not add some from our range.
Vegetable Frittata Bake
Our bakes are super popular! This Vegetable Frittata Bake is not only vegetarian, but also Low Gluten, meaning it is made with no gluten ingredients. This is a classic savoury custard based, generously filled with potato, onion and pumpkin. Each Vegetable Bake is then topped with red capsicum and feta cheese. Our bakes are baked in a paper cup, so these are super easy to heat and serve.
Thai Vegetable Bake
Our Thai Vegetable Bake offers something a little different to your customer, with an exotic flavour profile. Our Thai Bake has our savoury custard with Thai curry flavours, combined with egg noodles, potato and pumpkin.
Spinach and Chickpea Savoury Roll
Our Spinach and Chickpea savoury roll is a firm favourite amongst staff. A generously filled sausage roll with our own spinach and chickpea filling. A bold green which is sure to impress. Hand rolled in our vegetarian puff pastry – this savoury roll will really hit the spot.
Cheese and Onion Pasty
Our Cheese and Onion Pasty is our newest vegetarian product in the range. Think a Southland Cheese roll combined with Kiwi-dip… but in pastry. Drool-worthy stuff. This vegetarian puff pastry is filled with our handmade potato and cheese filling. We recommend eating this product warm, ideally reheated in the oven for a gooey, cheesy experience. Highly recommended.
Spinach and Cheese Rustica
Our Spinach and Cheese Rustica is another staff favourite. This large pie can be pre-portioned for ease, or can be an impressive centre piece for your cabinet. We recommend that each pie has approx. 12 potions. A homemade pastry base filled with spinach and a cheddar cheese sauce, topped with feta, thyme and more cheese. Yum!
Spinach and Feta Loaf
Our Spinach and Feta loaf is our version of a savoury muffin. Heat and serve with a generous serving of butter for the ultimate morning tea experience. It's a light feta, spinach and onion loaf, topped with pumpkin seeds.
Spinach and Cheese Swirl
The Spinach and Cheese Swirl is one of the newest products in the Rocket Foods range. A perfect swirl filled with spinach, spices and cheese. Our Swirl range are all "Ready to Bake" meaning you take them from the freezer into the oven to bake. Serve them fresh daily.
Cheesymite Swirl
Our new Cheesymite Swirl is a great option! Our perfect French style croissant dough, carefully rolled with cheese and marmite. This is one you are sure to love!
So there you have it! Lots of products to choose from to ensure that your menu caters for various dietary requirements including vegetarians. All our products are handmade by our talented team in our Auckland bakery. Our recipes have been tried and tested for years, so we know they are excellent and will be enjoyed by your customers.
If you'd like to see sample of any of our products, contact your Sales Representative directly or contact our Customer Services team, who would be happy to add a sample to your next order. If you are a new Customer and would like to set up an account with Rocket Foods, we would love to have you. Email orders@rocketfoods.co.nz and we'll get you set up.