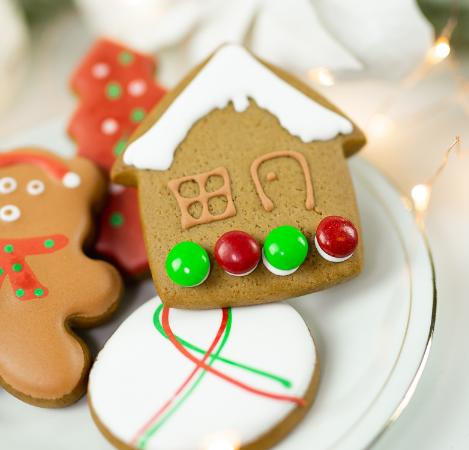 There's something nostalgic about Christmas baking, especially Christmas cookies. Gingerbread, shortbread, sugar cookies…there's nothing quite like it. Is it the special memory of making them with your mother, grandmother, siblings or friends? The smell of the sweet dough as vanilla is placed inside? The feeling of moulding it in your hands before digging through the drawer to pick out the perfect cooking cutter?
One thing is distinctly certain about cookies…they bring JOY!
Now we know that kiwis' have such busy lives around Christmas, and we can't let the joy of a cookie go unmissed. Here at Rocket Foods, our skilled team have perfected them and not just by making them, but by creating them with love, so that you can still give those special moments with your customers loved ones back to them.
Each Rocket Foods Christmas cookie is handmade. The cookies begin with joining the fresh cookie ingredients, of course, including hand-cracked eggs. The dough is rolled out, and individual cookie cutters of all shapes and sizes are pressed in by hand. Scooped up from the tray, they go straight into the oven – filling the air of the kitchen with mouth-watering sweet aromas. Next, they head onto cool down before the team hand decorates each and everyone, making them not just a cookie…but a speciality cookie. The fresh cookies are placed to dry, awaiting their trip into either wholesale individually wrapped cookie packaging, or in a larger bag for your favourite customers to grab once they're in store.
So how will you bring joy into your business this Christmas season? How about a few single Christmas tree cookies or some white chocolate dipped shortbread treats to put a smile on your customer's faces.
Interested in seeing more of the Rocket Foods Wholesale biscuits or wholesale cookies? Contact our sales team directly by emailing sales@rocketfoods.co.nz and one of our reps will be happy to come and visit you to discuss our handmade wholesale cookies.