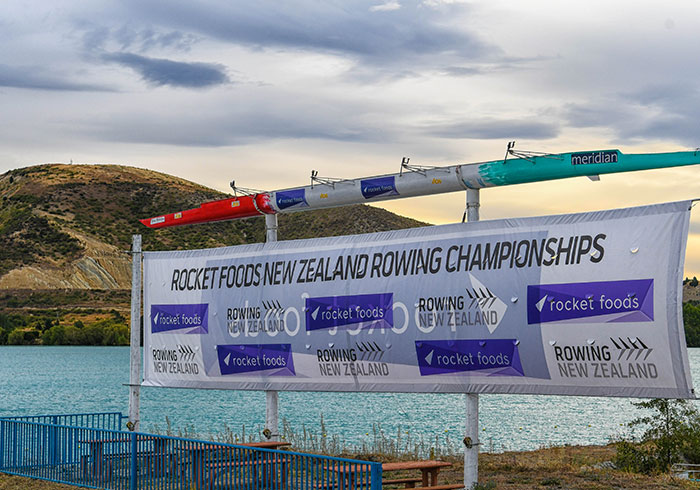 We are delighted to announce the 2021 Rocket Foods New Zealand Rowing Championships, held at Lake Ruataniwha, Twizel 16 - 20 February. This is the pinnacle domestic rowing event in New Zealand, with the country's top rowers competing for national championship honours. A stunning backdrop to a fantastic event that we look forward to every year.
It is a privilege that we can host this event with Rowing NZ and Southern RPC despite the events that have unfolded over the last 12 months. Collectively, New Zealand is an incredibly fortunate position which allows us to gather, spectate and compete at a national sporting event. This is something that should be celebrated and not taken for granted, and that is what we shall do – celebrate world class rowing right here in New Zealand. We know the rowing community will embrace it and we look forward to seeing everyone there.
The National Rowing Championships never fail to inspire and delight us, it's something we look forward to every year. We look forward to welcoming athletes, their supporters, media, volunteers and spectators to the event later this month. Our team will be attending and making some medal presentations, say hello if you see us.
This year's proceedings are particularly important, as it is an Olympic year. The 2020 Tokyo Olympic games are scheduled to take place on Friday 23rd July 2021. We know this is a key focus for training and preparation for this event has continued.
A New Format - Showcase Events
For the 2021 Rocket Foods National Championships, some changes have been made to proceedings, following the Special General Meeting held virtually on Monday 14th December 2020, with all 11 Associations voting unanimously in favour of the proposed changes. We look forward to presenting the exciting new format National Championships which includes new block format for scheduling for a jam-packed day and several new Showcase events that we know athletes and spectators alike will enjoy.
Rocket Foods Ambassadors 2021
We would like to take the opportunity to give a special mention to our Rocket Foods Ambassadors, Grace Prendergast, Kerri Gowler, Brooke Donoghue and Olivia Loe, and wish them the best of luck. You can read more about our Rocket Foods Ambassadors here.
Follow updates on our Instagram account, @rocketfoods_nz – don't forget to tag us in your photos too! We'd also recommend following our friends over at Rowing NZ who will be covering the event day by day.
Good luck to all those competing – we look forward to seeing you all there.
----
About Rocket Foods
Rocket Foods have been the principal partner of Rowing New Zealand since 2006. It is fantastic for us to be aligned with world class sport here in New Zealand. Collectively, we have excellence in common, for Rowing NZ on the water, and for Rocket Foods in our food.
History of the Partnership
This history of the Rowing NZ partnership goes back to 2006. Rocket Foods MD, Derek Jones, became involved with Rowing NZ through several previous businesses. Derek was keen to continue to support rowing, and enabled the sponsorship to continue under the Rocket Foods Banner.